makes 1 dozen balls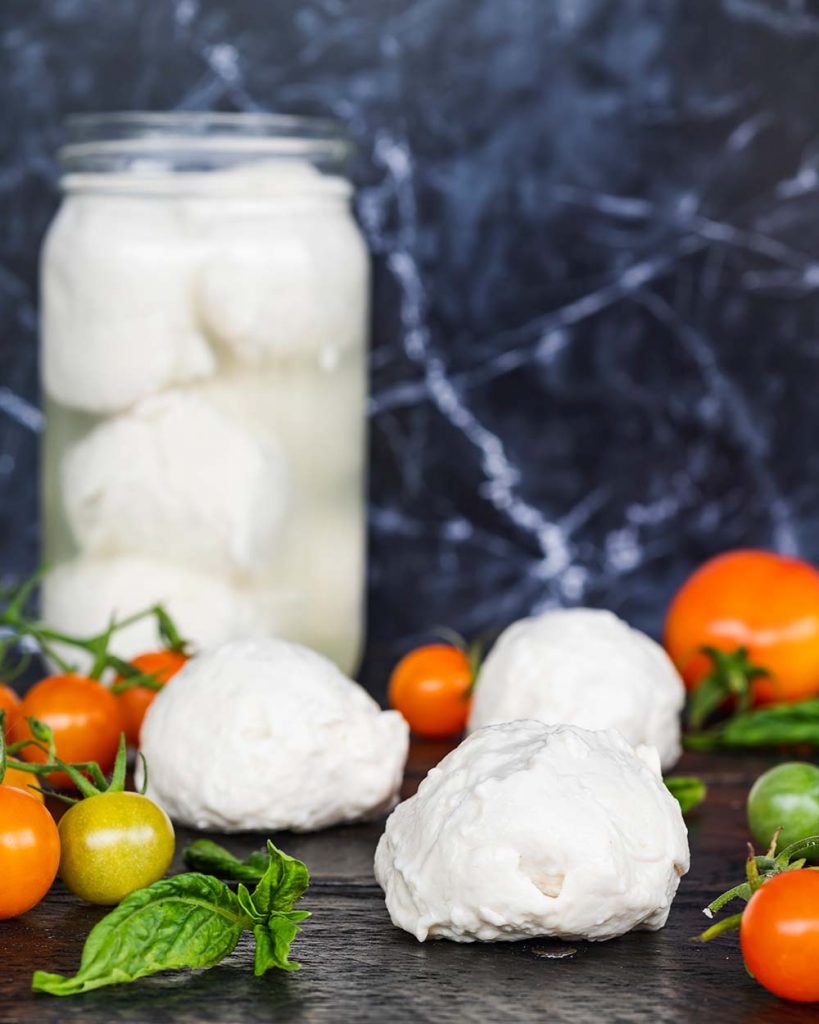 "You eat with your eyes first." Well, your eyes are about to feast. Yes, these mozzarella balls are creamy, tangy, and rich. But they are also absolutely beautiful, floating in brine, looking straight out of an Italian deli. "But how can I, who has never achieved anything in my life, make these?" you might wonder. And the answer isn't years of study in a cheese cave. It's an ice cream scoop, a high-speed blender, and some ice water. This method was perfected by Miyoko Schinner, of Miyoko's cheese fame.
Recipe notes:
~Make sure to use agar powder, not flakes. And if you want to substitute, it's on you, but I highly recommend just using the exact ingredients and you will get excellent results!
~These balls do melt. They don't get, like, AS melty as some store-bought vegan mozzarellas, but they do work great on pizzas and even in grilled cheese. Definitely flatten the balls or break them apart for best results.
~BUT! I really like them raw. They are super yum in a capers with heirloom tomatoes, olive oil salt and plenty of basil.
Ingredients
2 teaspoons agar powder
1 1/2 cups whole unroasted cashews
2 tablespoons refined coconut oil, melted
1 tablespoon apple cider vinegar
1 tablespoon fresh lemon juice
2 tablespoons nutritional yeast flakes
1 teaspoon onion powder
1 1/2 teaspoons salt, plus more for brine
3 tablespoons tapioca starch
Directions
In a large coffee mug or glass measuring cup, mix the agar powder into 2 cups water and let sit for about 30 minutes.
In a high-speed blender, blend the cashews, coconut oil, apple cider vinegar, lemon juice, nutritional yeast, onion powder, salt, and tapioca with agar and water mixture until completely smooth, about 2 minutes. Scrape down the sides of the blender with a rubber spatula to make sure you get everything.
Transfer to a saucepot. Heat over medium and cook, stirring often with a rubber spatula, until the cheese mixture is thick and glossy and pulling away from the sides of the pot, about 10 minutes.
Fill a 6-quart pot or bowl halfway with water and add about 15 ice cubes. Salt it well so it tastes like seawater.This is the brine for the mozzarella.
Use an ice cream scoop to scoop a cheese ball into the ice water. Dip the ice cream scooper all the way into the ice water to release the ball. It will firm up and start setting right away. Continue until all the mixture is used.
Cover the container, refrigerate, and let the cheese set for at least an hour. It's ready to use!