Serves 4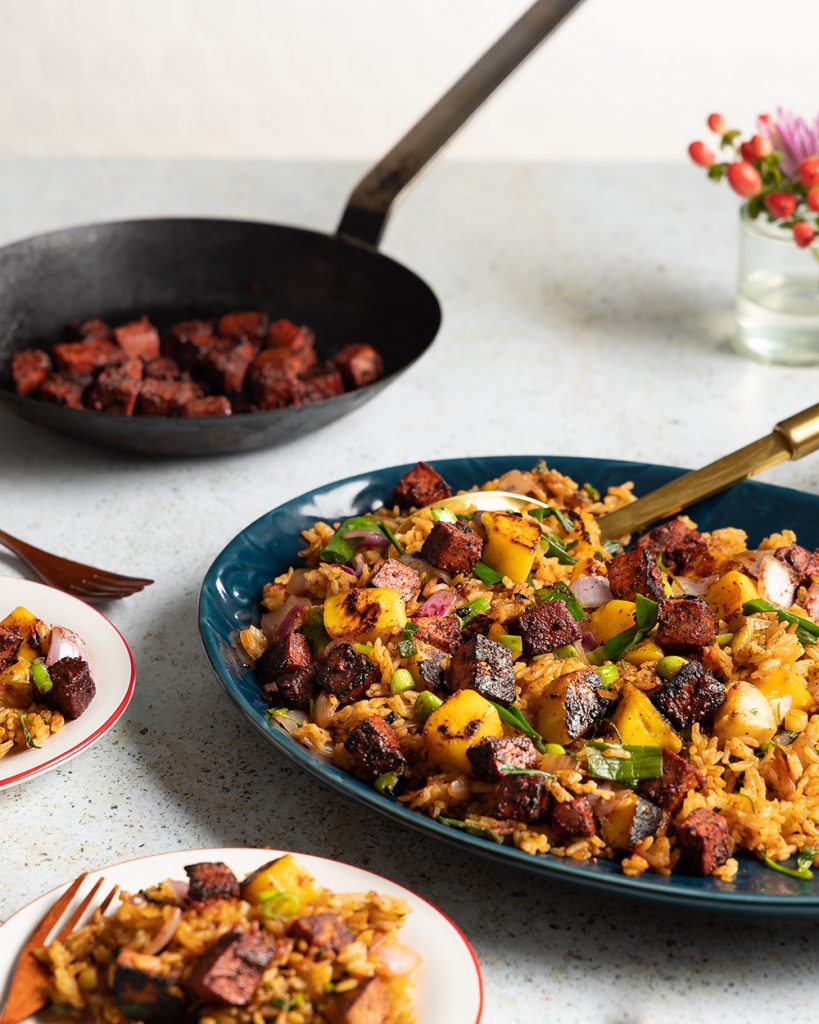 Fried rice is a meal you can have every night of the week and never tire of. I've proven this point time and time again; it was my go to when ordering takeout for most of my life in Brooklyn. But the home cook has to get it right: keep the heat high enough to sear each ingredient. A wok is the ideal vessel, but a large cast iron is fine, too. There's something so seductive about smoky meatiness with tropical juiciness and this fried rice satisfies with the combo of porq and mango. The flavor is zhuzhed up with ginger, lime and star anise for the most winningest formula. Getting the fruit a little caramelized is clutch for the most intense experience. Suprerfirm tofu marinaded in some stuff makes a really nice, meaty porq! But, truth be told, you can use any protein here (seitan? tempeh? vegan sausages from the store?) and skip the whole marinade thing, you'd still have a really nice, quick meal.
Recipe notes:
~I was a fried rice dummy until I learned that cold rice is key. Maybe you have some leftover rice hanging out? Awesome! If not, for best results, cook the rice and then spread it out on a sheet pan to cool completely. This way, it won't clump together. Once cool, you can store in tupperware to use later on. If you're really rich and lazy, some supermarkets sell frozen jasmine rice that you can use in this recipe straight from the freezer. Just allow some extra cooking time.
~I love the rich butteriness that coconut oil brings to fried rice, but olive oil would work just fine, too.
~If you don't have beet powder hanging around, are you even vegan? It's ok. Just dice up a small beet and add it to the marinade. It will release its juices and dye your tofu just the same. Simply remove the pieces before cooking the tofu or you'll end up with beet in your fried rice. Which, actually, is not a big deal.
Ingredients
14 oz package superfirm tofu cut into 1/2 inch cubes
Marinade for Tofu Porq:
1/4 cup apple cider vinegar
1 tablespoon beet powder
1 cup vegetable broth
1/2 teaspoon liquid smoke
2 tablespoons pure maple syrup
1/4 cup tamari
1 tablespoon olive oil
2 teaspoon garlic powder
For the Fried Rice:
3 tablespoons refined coconut oil, divided
2 cups cubed mango
1 small red onion, diced medium
1 bunch scallions, white and light green parts thinly sliced, dark green parts in 1 inch slices
3 star anise
2 cloves garlic, minced
2 teaspoons minced ginger
1/2 cup fresh chopped cilantro
4 cups cooked and cooled jasmine rice (or frozen prepared)
1 tablespoon sriracha
1 tablespoon tomato paste
2 tablespoons tamari or soy sauce
1 tablespoon fresh lime juice
1 teaspoon agave
Directions
Make the tofu porq:
1 – Mix together all marinade ingredients in a shallow bowl. Add the tofu cubes and toss to coat. Marinade for an hour, stirring occasionally.
2 – Preheat a large cast iron pan over medium high heat. Spray with cooking spray. Sear the tofu, flipping often, for about 7 minutes, until nicely browned on most sides, it doesn't have to be perfect. Turn off heat while you begin the fried rice.
Make the rice:
1 – Preheat a large wok over medium-high heat. Sear mango in one tablespoon of oil. Sear for about 4 to 5 minutes to caramelize a on a few sides. Transfer to the pan with the tofu.
2 – In another tablespoon of oil, saute the onion, scallion and star anise with a pinch of salt, for 3 minutes, just to sear slightly. Add the garlic and ginger and saute for about a minute.
4 – Add the last tablespoon of oil and the rice and fry for about 5 minutes, using a thin metal spatula to flip and toss, making sure it doesn't stick to the pan. Use spray oil to help keep things from sticking.
5 – In a mug, use a fork to mix together sriracha, tomato paste, tamari, lime juice and agave until the tomato paste is relatively smooth.
6 – Drizzle the liquid mix into the rice, tossing to coat. Cook for 3 more minutes.
7 – Add the pork and mango and toss. Taste for salt and seasoning. Remove star anise pods. Serve!