Serves 4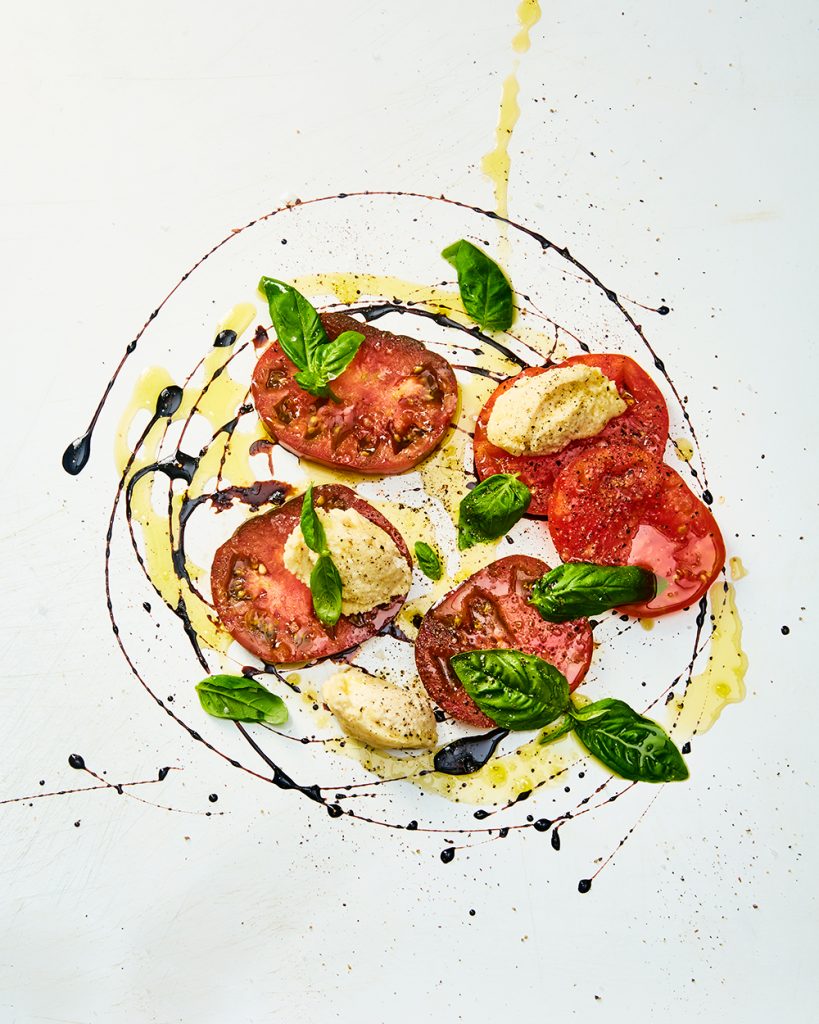 First let's get this pronounced correctly because you're saying it wrong: "CA-PRAY-ZAY."  Great. Moving on, I must tell you that the tomatoes are the most important element. So if it's just not the season and you can't find big, juicy, just-off-the vine 'matos, then don't bother. Now that those things are cleared up, let's get CA-RAY-ZAY. Fresh basil, sweet balsamic reduction, olive oil and flaky sea salt make for the simplest but most sublime summer salad. Traditionally, mozzarella is the cheese of choice, but ricotta is not unheard of and almond ricotta is a nice introduction to vegan cheesemaking. Use the fruitiest, fanciest "good stuff" olive oil for this recipe.
Recipe notes:
~Balsamic reduction is a tangy, sweet and sticky project that tastes great and is such fun to swirl on a plate. However, caprese doesn't require it (and, actually, a caprese snob might look down their nose at it) so if you feel like skipping this step, go ahead. Like I said, it's all about the tomatoes.
~BUT! If you want to make the reduction, here's how: Pour two cups of balsamic into a small pot, turn the heat on medium-high and bring to a boil. Lower heat and stir every few minutes with a fork, keeping it simmery but not at a full boil. It takes about 20 minutes, but a sticky, syrupy consistency should happen. The liquid will reduce by about half. Err on the side of caution and don't set the heat too high, or you might end up with a too-stiff concoction. Once it's thick and syrupy, transfer to a small, sealable container.
~You can use all types of tomatoes here. Don't worry about shape and size, throw some cherry tomatoes on there! Cut wedges and slices. I kept it simple with slices for this pic, but you don't have to.
Ingredients
For the ricotta:
1 1/2 cups slivered almonds
1/2 cup warm water
2 tablespoons olive oil
2 tablespoons nutritional yeast
2 tablespoons fresh lemon juice
1/2 teaspoon salt
For the salad:
Balsamic reduction (see note)
4 large vine ripened tomatoes
Maldon or coarse sea salt
Olive oil for drizzling
Fresh black pepper
2 cups fresh basil leaves
Directions
1 – Make the ricotta. Place the almonds in a high speed blender and pulse into crumbs. Add the remaining ricotta ingredients and blend until thick and pasty, with a ricotta-like texture. Use a rubber spatula to transfer to a well-sealed container, and chill until ready to use.
2 – Assemble the salad by using a spoon to drizzle balsamic reduction on a plate in a circular motion. Place tomatoes on the balsamic.
3 – Dollop on almond ricotta. Drizzle on olive oil and sprinkle with Maldon. Grind some fresh black pepper over everything. Top with fresh basil leaves and serve immediately.