Makes 16 wings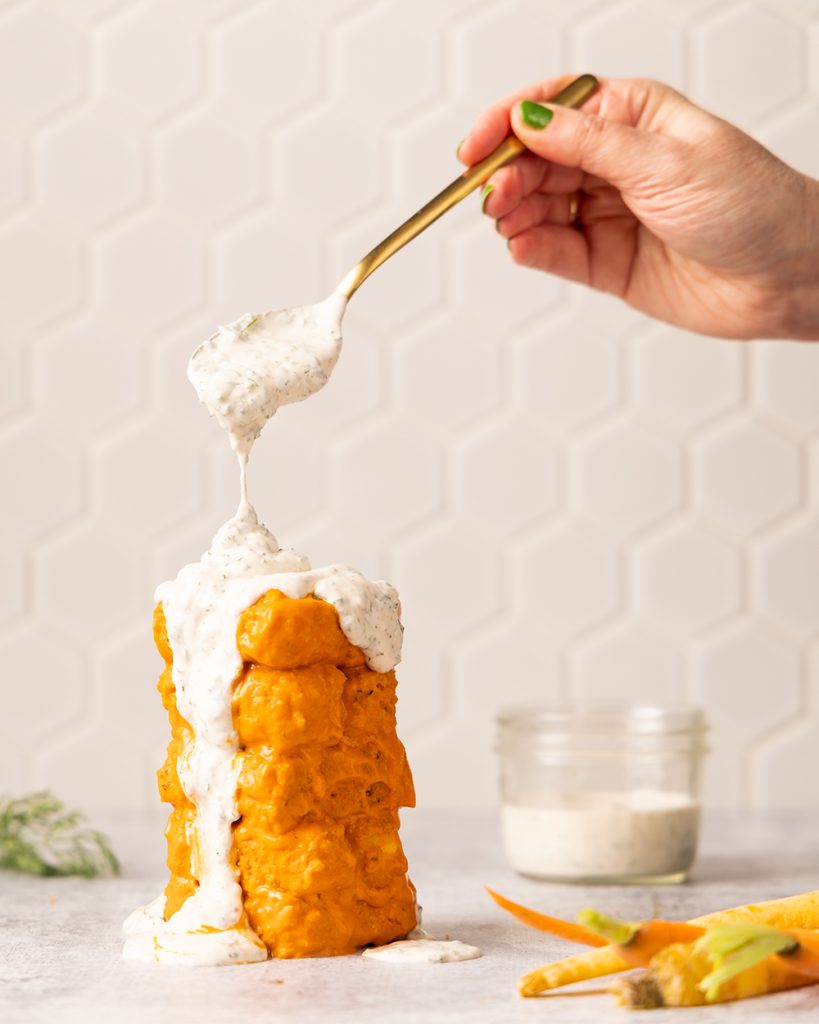 This recipe is from the Wings chapter of Fake Meat, and it's the OG of vegan wingz. Let's take a trip to the golden era of veganism, the 1990s. We were lousy with veggie burgers and scrambled tofu. Packages of vegan cheese didn't even bother to advertise "IT MELTS" because we all knew it didn't. And no one, but no one, even considered that a wing could be vegan. Except Kate's Joint in Alphabet City. I could write a whole think-piece on the place, but let's just focus on the buffalo wings. Fat rectangles of chewy tofu, coated in an herbed breadcrumb filling, and dripping with buffalo sauce. On the side, a pinch dish of creamy tofu ranch. No table was without a few orders. On your first bite, everything just burst into your mouth in the most obscene way. And now you can create that feeling at home! So scruff up your tables, hire some crust punks to sit outside your window, and enjoy. Oh, and scroll to the bottom for a bonus recipe if you'd like to make your own ranch <3
Recipe notes:
~This recipe makes sixteen wings, which isn't enough for a party. Well, maybe a party of two! So double or triple or quadruple the recipe if you are in serious Puppy Bowl mode.
~I don't press the tofu for these. I don't know, Kate's might have, but I like the moisture when you bite into one, as well as the fact that it cuts down on a lot of prep time.
~Kate's tofu wings were rectangles, so I recreated the shape here. You can use any shape you like, but don't expect any points for authenticity. Here are directions for butchering tofu to end up with the correct shape: 16 sixteen stubby little rectangles. Don't press the tofu, just a drain and quick little squeeze with some kitchen towels to keep it dry is all you need. Now, let's process.
Use a 14-ounce (400 g)z rectangular block of rectangular tofu,; this will work best. Place the tofu on one of it's long sides and slice the tofu in half down the middle into two planks, like you're making an open book. You should now have two large rectangles. Now slice both of them in half the short way. You'll have 4 four rectangles. Take each rectangle and cut it vertically into 4 four pieces. Ta-da!
Ingredients
1 14-ounce block extra-firm tofu, sliced into 16 rectangles (see note above)
1 teaspoon salt, divided
3 tablespoons olive oil
1 tablespoon fresh lemon juice
3 tablespoons cornstarch
1 cup cold unsweetened soy milk
1 tablespoon tamari
2 cups panko breadcrumbs (use gluten-free if you'd like to make this gluten-free!)
3 tablespoons chopped fresh rosemary
1/2 teaspoon salt
Safflower oil, for frying
FOR THE SAUCE:
3/4 cup buffalo hot sauce (Frank's Red Hot)
1/4 cup vegan butter, melted (I like Miyoko's)
FOR SERVING:
2 cups carrot sticks
2 cups celery sticks
Vegan Ranch Dressing (bonus recipe below the directions!)
Directions
Press each tofu rectangle with a kitchen towel to quickly dry it. Place in a single layer on a small baking sheet. Sprinkle with 1/2 teaspoon salt and drizzle with the olive oil and lemon juice. Toss to coat. Let rest while preparing everything else. You will be using this same tray for the breaded tofu.
Now make the slurry and breading: Scoop the cornstarch into a wide-rimmed bowl, add half the soy milk along with the tamari, and stir well until it's a thick smooth paste. Mix in the remaining milk. On a large rimmed plate, mix together the panko, rosemary, and remaining 1/2 teaspoon salt.
Dip a piece of tofu into the the slurry with one hand, letting the excess drip off. Transfer to the panko bowl and use the other hand to sprinkle a handful of breadcrumbs over the tofu to coat it completely. Return it to the tray and bread all the other pieces in the same way. Make sure you use one hand for the wet batter and the other for the dry batter, or you'll end up with a clumpy hand.
Preheat a large cast-iron pan over medium-high heat. Pour in a layer of oil, about ¼ inch thick. Fry the tofu in the hot oil until golden on the top and bottom, working in batches if necessary; it will take about 8 minutes total. The sides will get fried in the process, but add a little more oil if needed. Use a thin metal spatula to flip.
While the tofu is frying, make the sauce: Simply mix the melted butter with the buffalo sauce. You can melt the butter in a large ceramic bowl in the microwave then mix in the hot sauce to save on doing dishes.
Lift each wing from the oil and dunk it into the buffalo sauce to coat.Transfer to serving plates and serve immediately with the carrots, celery, and ranch.
BONUS RECIPE! To make your own vegan ranch:
2 tablespoons finely chopped fresh parsley
2 tablespoons finely chopped fresh dill
2 tablespoons finely chopped fresh chives
1 1/2 teaspoons onion powder
1/2 teaspoon garlic powder
1/4 teaspoon ground black pepper
1/2 teaspoon salt, plus more if needed
2 tablespoons fresh lemon juice
3/4 cup vegan mayo, prepared or homemade
In a small mixing bowl, add the parsley, dill, chives, onion powder, garlic powder, black pepper, and salt. Drizzle in the lemon juice and give it a stir. Let sit for about 5 minutes, soaking up the flavors and wilting the herbs.
Add the mayo and stir well. Depending on the kind of mayo you used, you may need to add a little water to thin it out. Do this by the tablespoon until the consistency seems correct, thick but pourable. Taste again for salt and seasoning.The flavors enhance as it sits, so it's even better the next day! Seal in an airtight container and refrigerate for up to 5 days.