serves 6 to 8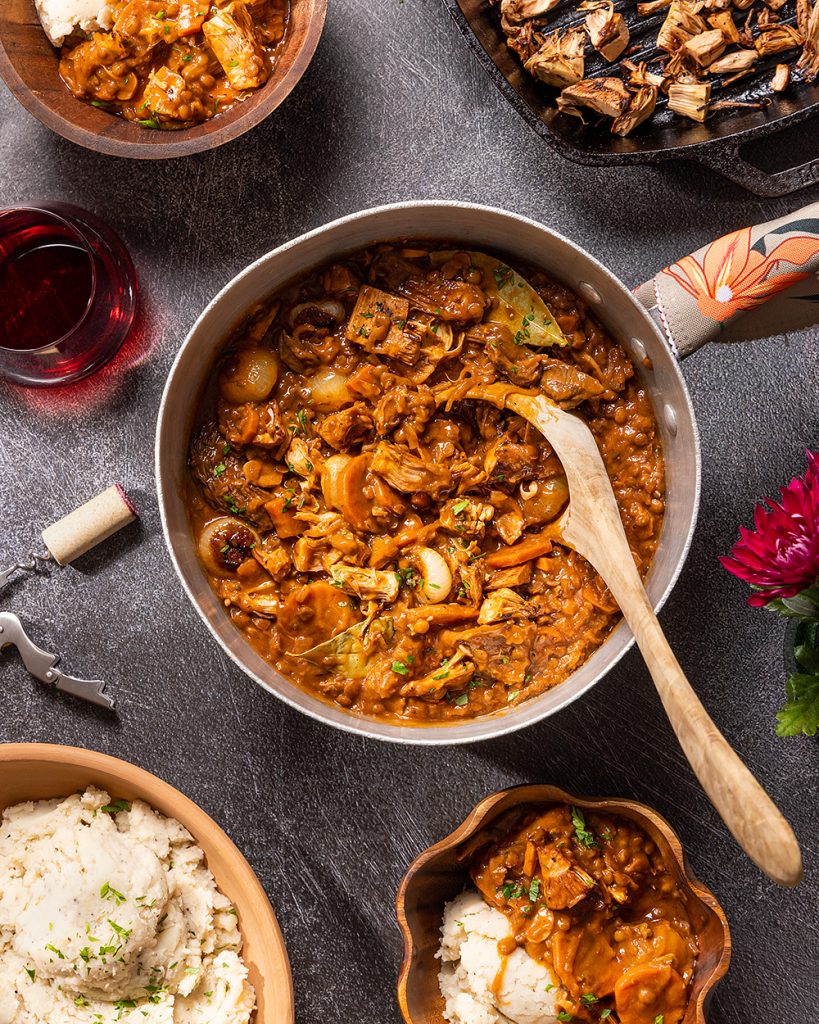 If you think Bouef Bourguignon you might automatically think Julia Child. But is Julia Child smiling down on us for this one? Probably not. But damn it's still delicious. All the wine-kissed smoky satisfaction that you want in Bouef Bouruignon.
It's from the Beef Stew chapter of Fake Meat and it's the recipe that finally got me to embrace jackfruit! All it took was a cast iron grill to change everything. Jackfruit is grilled and charred to rep the beef, along with its trusty sidekick, porcini mushrooms. Lentils add meaty body and smoked paprika brings the bacon kick that vegans love so much. I love toasting slices of garlic for this stew, so don't you dare get lazy and mince it. Serve over ridiculous amounts of mashed potatoes. 
Recipe notes:
~Double check that the jackfruit is canned in water, not in syrup. You don't want any sweetness here, even if you wash it off, it would still be super weird.
~Pearl onions are an iconic component to Julia's recipe, so I use them here. They're cooked on the grill right after the jackfruit so that you aren't using too many dishes. But if you leave them out, no big deal. Julia is already disappointed in us so it can't get any worse.
Ingredients
5 tablespoons olive oil, divided
2 20 oz cans green jackfruit in water
2 cups pearl onions
2 cups sliced shallots
1/4 cup sliced garlic
2 cups peeled carrots, sliced into 1/4 inch coins
3 tablespoons fresh thyme, chopped
4 bay leaves
2 teaspoons smoked paprika
1 teaspoon salt
1 1/2 cups dry red wine
Fresh black pepper
1/2 cup green or brown lentils
1 oz dried porcini mushrooms
5 cups vegetable broth (or Beefy Broth page XX)
2 tablespoons tomato paste
1/4 cup all purpose flour
1/2 cup water
To serve:
1/4 cup chopped fresh parsley
Directions
1 – Drain and rinse jackfruit. Pat dry. Remove and discard the core from the jackfruit pieces, it looks kind of like a seed. Toss the rest in a mixing bowl with 3 tablespoons of olive oil and a big pinch of salt.
2 – Preheat a cast iron grill over medium heat. When pan is hot, place jackfruit in as much of a single layer as possible. You will need to do this in two batches. Grill for about 5 minutes, until charred and smoky, then use a thin metal spatula to toss and grill again for 3 more minutes. Transfer to a bowl and set aside to add back later.
3 – In the same mixing bowl, toss pearl onions in 1 tablespoon olive oil and a pinch of salt to coat. Place on the hot grill. Let cook until softened and charred in some spots, flipping occasionally, about 15 minutes.
4 – In the meantime, reheat a 4 quart pot over medium high heat. Saute shallots and a pinch of salt in remaining 2 tablespoons olive oil until translucent, 5 to 7 minutes. Add garlic and carrots, saute for about 5 more minutes.
5 – Add thyme, bay leaves, smoked paprika, and salt and toss around for a minute.
6 – Add wine to deglaze the pan, scraping the bottom with a wooden spatula, and bring to a boil. The liquid should reduce in about 3 minutes. While it's reducing grind in ample amounts fresh black pepper.
7 – Add lentils, porcinis, vegetable broth and tomato paste, cover and bring to a full boil for 5 minutes or so. Lower heat, leave lid ajar for steam to escape, and simmer until lentils are tender, about 30 minutes.
8 – In a measuring cup, mix the flour into the water with a fork until no lumps are left. Slowly add the water/flour slurry to the pot, mixing well. Let cook for about 10 minutes, stirring often. If it appears too thick, thin with a little water.
9 – Mix in the jackfruit and pearl onions and heat through. Shut off heat and let the stew hang out for about 15 minutes, for flavors to marry. Serve with mashed potatoes and garnish with parsley.