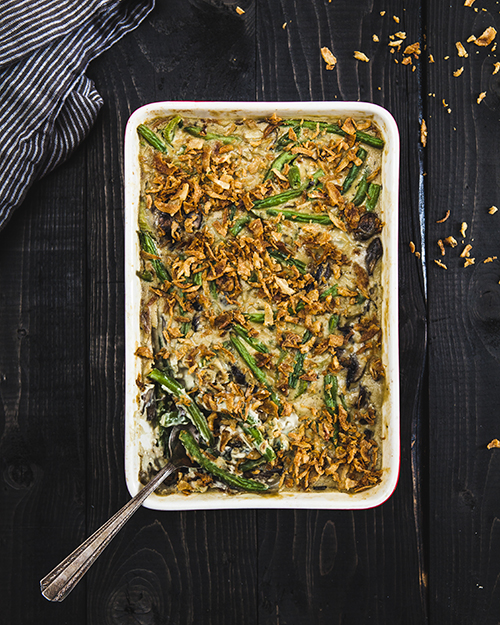 Long time no see. I figured I had to pull out a real show-stopper to get back into your life. Enter Green Bean Casserole!
Before the recipe though, a word of welcome to my new website, IsaChandra.com! It was a fabulous 15 year run, but as you might have noticed, I hadn't updated The Post Punk Kitchen in years. I just needed something fresh and new. So it's basically like I cut my bangs and feel like a new person. Only in internet form.
But don't worry, all of your favorite recipes are being transferred here (if they haven't been already) and I'll be updating way more often. Starting with some recipes from my new cookbook, The Superfun Times Vegan Holiday Cookbook! Order it, like, right away. Now on to the recipe.
Did your childhood Thanksgiving come out of cans and boxes? And do you kinda sorta maybe just-a-little-wittle-bit miss it? Then this casserole is right up your alley! This version has a few real ingredients, but don't let that fool you, it's still as embarrassingly good as its predecessor.
---
Notes
~ Lots of fried onion brands are vegan, or you can just google how to make 'em yourself. Whole Foods carries a nice vegan one, for sure.
Ingredients
1 cup raw cashews, soaked in water for at least 2 hours and drained (skip the soaking step if you have a vitamix or other high speed blender)
3 cups vegetable broth, purchased or homemade
1⁄2 cup all-purpose flour
2 tablespoons nutritional yeast flakes
2 tablespoons olive oil
1 pound green beans, trimmed and cut into 2-inch pieces (about 4 cups)
1 small onion, finely chopped
1 teaspoon salt, plus a pinch
4 cups sliced cremini mushrooms
1 tablespoon onion powder
freshly ground black pepper
1 (6-ounce) can fried onions
Directions
Preheat the oven to 375°F. Lightly grease a 9-by-13-inch casserole dish.
Combine the cashews, broth, flour, and nutritional yeast in a blender. Puree until completely smooth; this can take up to 5 minutes depending on the strength of your machine. Periodically stop the machine to prevent it from overheating, and scrape down the sides of the blender jar with a rubber spatula make sure you get everything.
Meanwhile, heat a large sauté pan over medium-high heat. Heat the olive oil, then sauté the green beans and onion with a pinch of salt until the green beans are softened, about 5 minutes. Add the mushrooms and sauté 7 to 10 minutes more. The mushrooms should have released most of their moisture.
Add the blender mixture to the pan, along with the onion powder, remaining 1 teaspoon salt, and a few grinds of black pepper. Cook, stirring often, until thickened, about 10 minutes. Add half of the fried onions.
Transfer the green bean mixture to the casserole and top with the remaining fried onions. Bake until browned and bubbly, 22 to 25 minutes. Let cool for a few minutes before serving.