Serves 2 to 4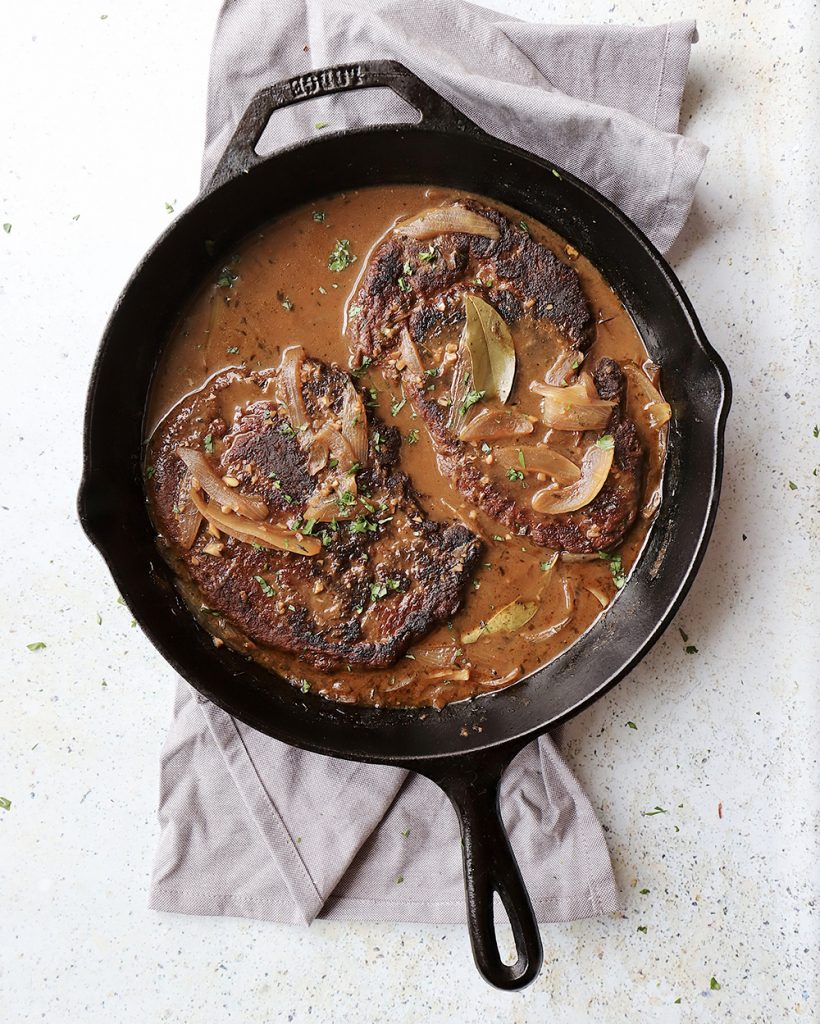 If you're from Brooklyn — and you're probably not even though you say you are — then you celebrate with steak. Everyone knows this from every movie. Cavernous steakhouses that date back to the last, last century lurking all over the city, tucked under bridges or beside a forgotten waterway, with their historical plaques, creaky wood floors, and signed Frank Sinatra portraits on the wall.
Well, 2020 is over and it's time to celebrate Brooklyn style. Whether it's a night of somber reflection or one of dancing and drinking (in your own home with only your household members and/or just your cat) this recipe works. It's a visceral activity unto itself, injected with whatever meaning you need it to have.
Basically, you'll work a pliable ball of gluten until it's goth red and gristle-y. Then you roll and pound it. Throw it into a hissing cast iron pan to sear. Smoke. Fire. Sizzles. Who needs fireworks?
I was striving for something that could come together in one pot. I like baking seitan, but it does tend to dry things out and I wanted this to be juicy (pronounced JUSAY). Enter sear/braise. The steaks are cooked, removed from the pan then you create a rich au jus with onions, garlic and red wine. Some miso for that savory je ne sais quoi. And the seared steaks are placed back in to cook through. The end result is some of the best seitan I have ever had! Seared and smoky, firm but tender. And totally juicy (pronounced JUSAY). Plus it comes with its own sauce, perfect for slathering. Serve with mashed potatoes or crinkle cut fries. Or anything starchy and awesome. Happy New Year.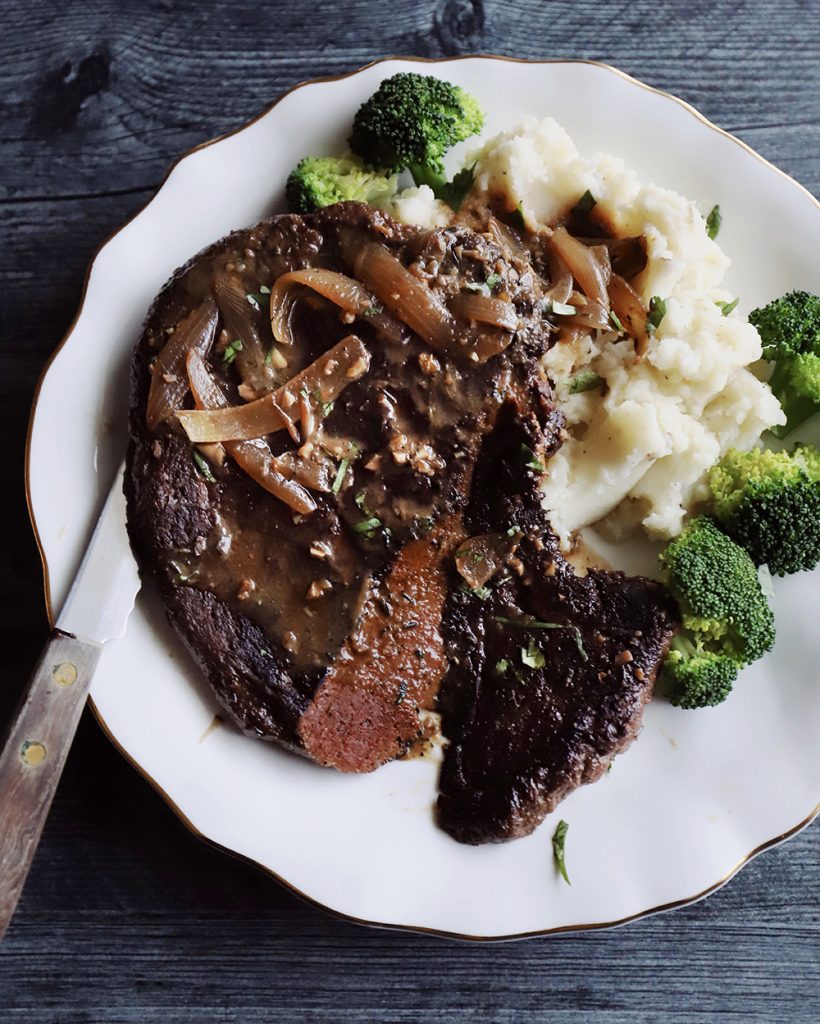 Recipes Notes
~ I tested this recipe using tamari, but something was missing. The Bragg's Liquid Aminos really upped the flavor game here, adding nuance and just kind of this steak sauce flavor that really popped. I recommend it! Not only because you get a bottle with Patricia Bragg's floral hat printed on it, but it's a nice ingredient to have around for when you're like "This rice needs to taste more hippy."
~ Beet powder is another fabulous ingredient. It honestly doesn't have much flavor in small quantities but adds so much color! You can try to use whole beets or whatever you are going to do but I didn't try that and any adjustments to liquid and dry ingredients in this recipe will change the texture dramatically. I've found it in stores but Amazon is evil and the most reliable place to get it.
~ If you don't have a cast iron pan, then….wait, why don't you? Get one. You need that hot sizzle when it hits the pan and nothing else will give you that.
~ The broth you use will affect the outcome. Make sure it isn't too salty because the sauce reduces a lot. If you're using a concentrated bullion mixed with water, that is fine, but go light with it and taste as you go to see if it needs more.
~ I used Bob's Vital Wheat Gluten. If you use a different one, results may vary. Why? Protein content, probably. Not all VWG has the same amount. They should standardize this for our vegan future.
~ I really can't see one person eating a full steak like this, so I don't know, prove me wrong. Aesthetically I wanted it to be this big, but realistically, it serves four.
Ingredients
For the Steaks
1 1⁄4 cups vital wheat gluten
2 tablespoon nutritional yeast
2 tablespoons beet powder
2 teaspoons lemon pepper (salt free)
1 teaspoon onion powder
1/2 teaspoon mild mustard powder
2/3 cup water at room temp
3 tablespoons Bragg's liquid aminos
2 tablespoons tomato paste
2 tablespoons olive oil
2 teaspoons red wine vinegar
Everything else:
Olive oil for cooking
1 medium onion, sliced
4 cloves garlic, minced
1/2 cup dry red wine
2 tablespoons red miso
3 bay leaves
Fresh black pepper
1/4 teaspoon dried thyme
4 cups veggie broth
Fresh parsley for garnish
To serve:
Mashed potatoes or crinkle cut fries. Instagram seems to go gaga over crinkle cut fries. Or any potatoes, really. A baked potato would be just fine! Also a green veggie. Nothing with too much flavor because this has a lot!
Directions
In a large mixing bowl, combine wheat gluten flour, beet powder, nutritional yeast, lemon pepper, onion powder and mustard powder. Make a well in the center.
In a small bowl, mix together water, aminos, tomato paste, olive oil and vinegar until the tomato paste is incorporated.
Add wet ingredients to the well and mix until a lumpy ball forms. It will appear a bit dry. Now, use your hands (with gloves if you have them) to knead the mixture until all ingredients are incorporated and there are no dry spots. If it's very cold in the kitchen, you may have a harder time kneading. Moisten your hands with warm water and keep going, it should take about 3 minutes and appear very stretchy.
Divide the ball in half with a knife. Again, if it's cold, the seitan might spring back more so this process will take a big longer. On a large cutting board, flatten the dough into a kidney shape that is roughly 3/4 inch thick and 8 inches in length. Use a rolling pin to roll, flatten and form. Let the first one rest while you do the second one.
Let both doughs rest about 10 minutes, for the gluten to relax a bit, then repeat the rolling process. Again, it's more resistant if your kitchen is very cold so you might need to let it rest one more time.
As the steaks rest the surfaces will get a little smoother, which if what you want for the sear and appearance.
Preheat the cast iron grill over medium high. It should be very hot and water should immediately evaporate. This is important because you want the steak to hiss immediately so that is sears and does not stick.
Pour in a thin layer of olive oil to coat the bottom of the pan. Add the steaks and sear until dark brown, but not burnt, about a minute and a half per side. Use a thin metal spatula to flip steaks. Once they are seared, lower the heat to medium and let them cook until somewhat firm, about 10 more minutes, flipping and pressing down on them with the spatula.
Now we are going to remove the steaks and cook the sauce in that same pan. Place steaks on a plate.
Turn heat up to medium high. Drizzle about 2 tablespoons of olive oil into the pan. Add onions and a small pinch of salt and sear the onions for about 3 minutes. Add the garlic and a little more oil if needed and cook for about 2 more minutes, stirring often.
Add the wine and stir to deglaze and reduce, about 3 minutes. Mix in the miso to dissolve. Add bay leaves, a healthy dose of fresh black pepper (1/2 teaspoon or so), thyme and veggie broth. Let the broth warm, reduce heat to medium.
Once warm, return the steaks to the brothy pan and submerge, spooning broth and onions over. Cover the pan and let cook for about 30 minutes. The broth should be simmering this whole time, but not boiling too rapidly.
OK we're almost done! Remove the cover and flip the steaks. Turn the heat up and let sauce reduce for about 15 minutes uncovered. The broth will get really boily and active. Spoon sauce over the steaks while they cook. The steaks should no longer appear submerged and the sauce should be thickened a bit and really flavorful. Taste for salt.
Let sit for 10 minutes or so before serving. Remove bay leaves and garnish with parsley.